Ring Groups permits Group/List of extensions or external numbers to ring at all once, sequence or in a cycle.
Defining a New RING GROUP
Click on New Ring Groups from the Right Top Corner.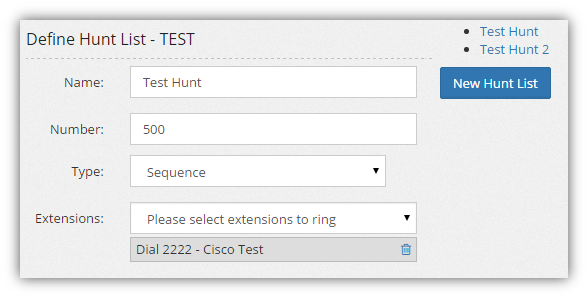 Name: <enter the desired description> e.g. Main Ring Group
Number: <500> e.g. 500, 501 these numbers will uniquely identify the Ring Group.
Type: <Choose from the following three options>

Ring All (Rings all the extensions in the group)
Cycle (Rings the extensions in cyclic order)
Sequence (Rings the extensions in a sequence)

Extensions: <Select/Add the extensions to ring in a group>
Additional Settings (Optional)

Use Default Music On Hold instead of ringing.
Skip if extension are in use or offline.
Note: Checks if extensions are in use or offline. IF Yes, skips dialling extension.
Allow extension redirect.
Allow FMFM
Allow additional destinations
Note: Enable if you want to forward the call to another destinations.
Request confirm to answer
Request confirm to answer if set, requests the Receiver to accept or reject the call. If the call is rejected, the Ring Groups continues trying to locate a phone.
Other Settings
Confirm Message: <Select the desired option>
Ring time: <Enter the time in seconds>
On timeout: <Select the desired option> e.g. Managers Mobile
Note: Custom destination can be created in Customs Destination section in the option menu.
Click "Save" once done.