Custom Destination feature enables you to forward/transfer your calls to any desired destinations.
Define Custom Destination
Go to 'Configuration' followed by 'Custom Destinations'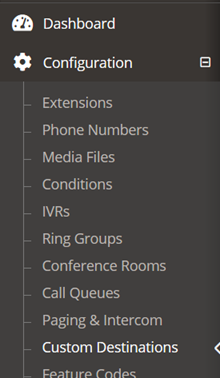 Click on New Custom Destination. You will be presented with the following screen:
Type: You will need to select "Forward call to" from the dropdown menu
Name: Enter an easy to remember name for the call forward e.g. Bob's Mobile
Phone Number: The destination for the call forward e.g. 02012345678
Dial timeout: set this to 600, to allow the phone to call for 10 minutes
CallerID:

Use Original <Use this as the Default>
Use Incoming DID

Add Diversion Header: No Division Header <Use this as the Default>
Additional call options: Left blank as default
Click "Save" once done.